An evolving list of things I have worked on personally, academically or professionally.
---
Android App Development at Ubique
Since summer 2019, I have the pleasure to work part-time at Ubique. I enjoy it a lot - not just because I get to work on real projects (and not just coursework). Ubique is also a stone's throw away from ETH, so whenever I need a break from my full-time studies, it is only a Polybahn-ride away.
Among all the small bug fixes and minor features, there are three pieces of work that I am most proud of (and learnt the most from):
First, implementing the Dark Mode in SBB Mobile. Trust me, there was a lot more to it than just a few XMLs!
Second, the map screen in the Zürich City Guide. A few learnings about Mapbox along the way.
And last, ABC (it is unreleased and doesn't have an official name yet). For that, I not only led the Android part of the project, I also implemented some of the WebAuthn spec. Very exciting!
Technologies: Kotlin, Java (well, Android apps!)
---
HPC with Team RACKlette
5 other students and me - with the support of the Swiss Supercomputing Center and various sponsors - designed, built and operated a 4-node supercomputer.
We successfully competed in the two Student Cluster Competitions during ISC19 in Frankfurt and SC19 in Denver. Most notably at ISC19, we placed 3rd overall and won the Highest Linpack award.
Technologies: CentOS, Slurm, Spack, Python, Bash, plus lots of hardware hands-on
Website: https://racklette.ethz.ch/
---
Spartathlon mobile app
The ultramarathon Spartathlon is quite a journey for both the athletes themselves but also for their supporters and friends at home, as well as the volunteers in Greece.
My rewrite of the old app (which as of January 2019 has not been updated since 2016) includes all existing features while also adding a ton of new ones: dark mode (remember, the race goes through the night!), pinning favourite athletes and most importantly the race schedule (for which I wrote my own backend).
Note that app is currently UNOFFICIAL. I have been in contact with the Head of IT of the International Spartathlon Association ISA but the board decisions are rather slow. However the app has been already in use by my own supporter in 2019 and I have had very positive feedback.
Status: On hold. The organiser's API is not currently available anymore.
Technologies: Dart, Flutter (app). Python, HTML, CSS, Django (backend).
Source code: Gitlab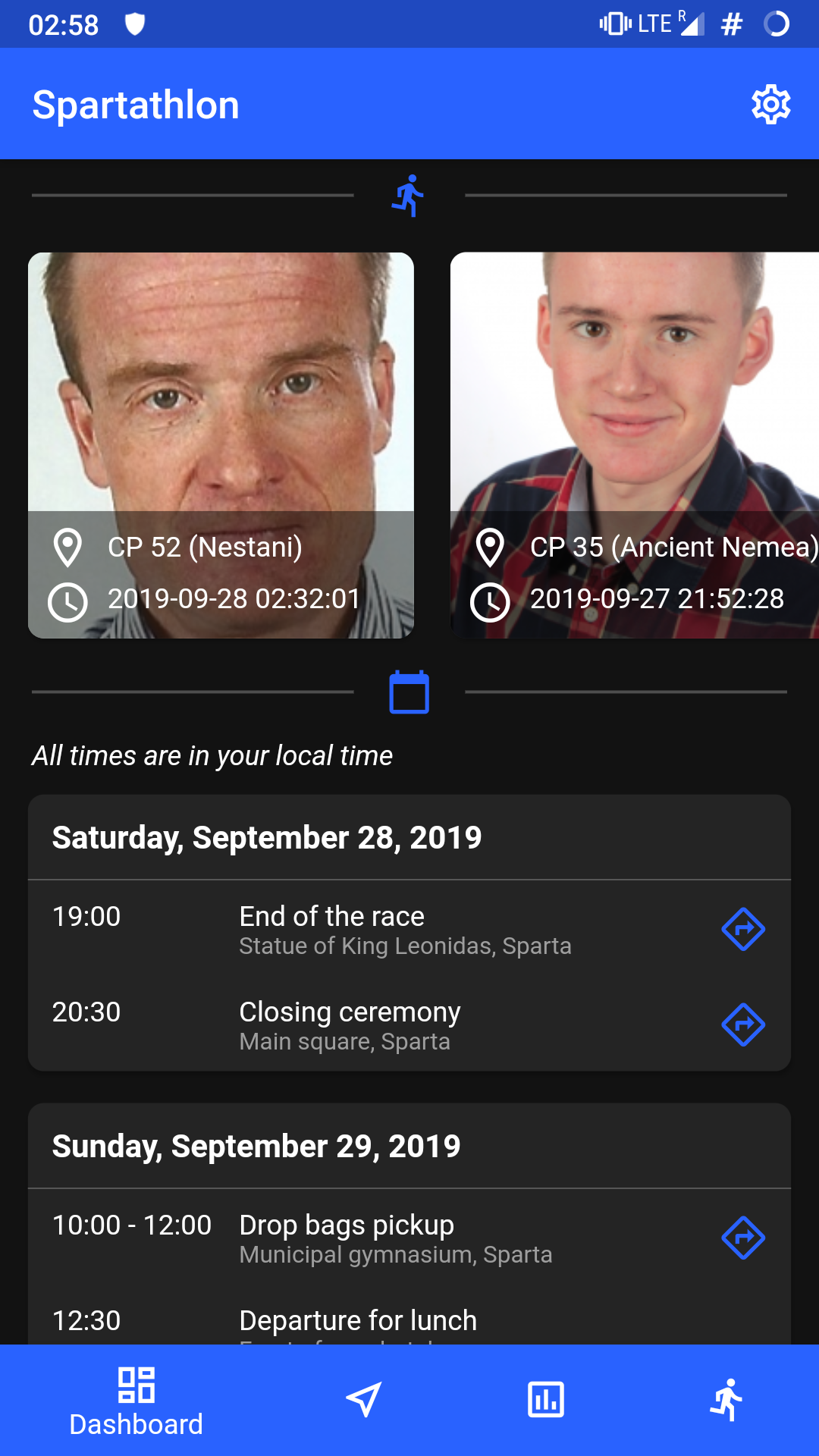 ---
Spartathlon bot
You are at home and want to follow your beloved ones as they are slowly progressing from Athens to Sparta. Normally you would regularly check the website to see if they have already passed the next checkpoint (Are they there yet? Are they still in the race?).
With my bot, you get simple Threema messages when a runner you follow passes a checkpoint.
Status: On hold. The organiser's API is not currently available anymore.
Technologies: Python, Django, Threema Gateway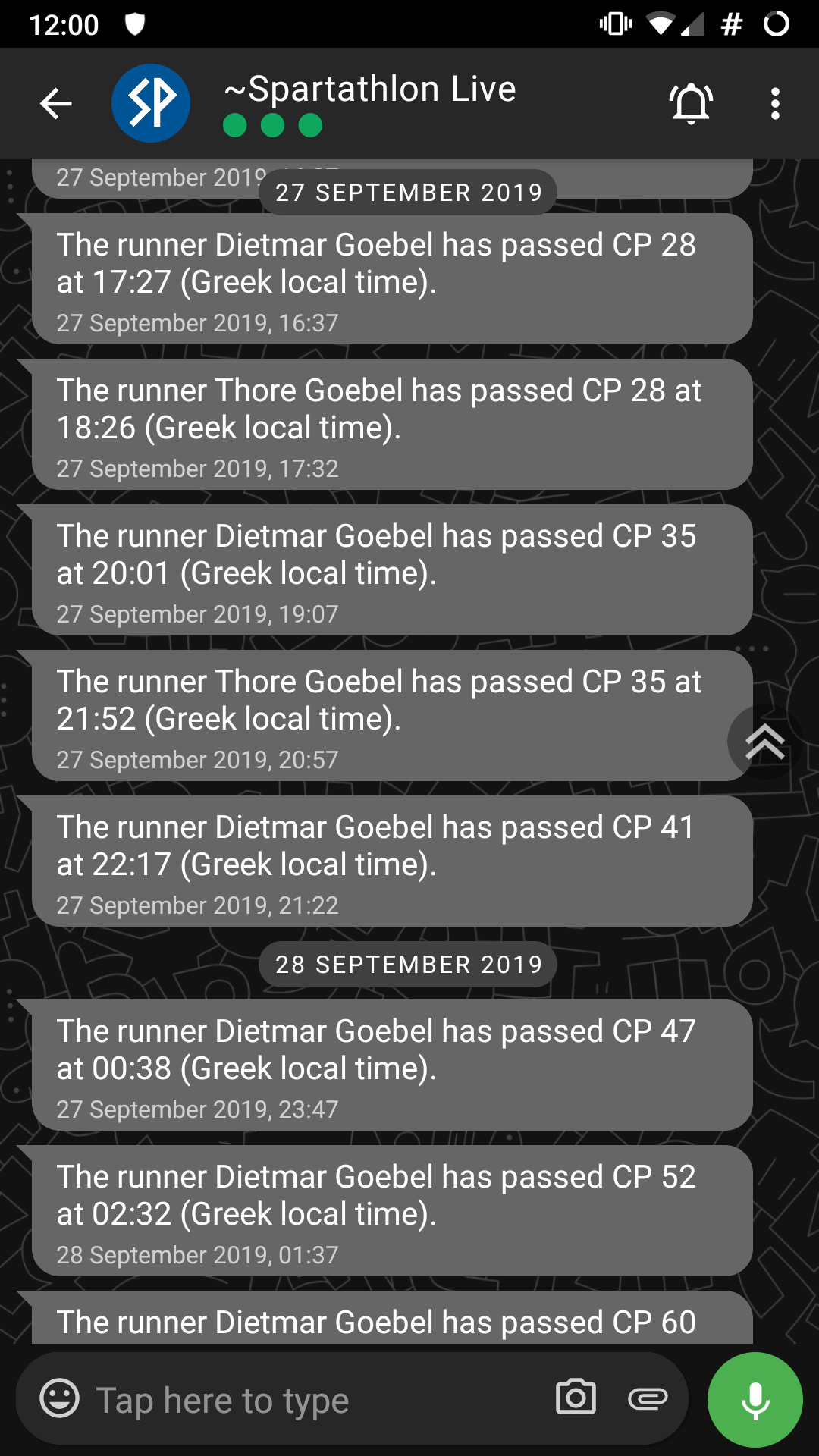 ---